If you're a parent who is passionate about cooking, odds are you want to try and share that passion with your kids. But most recipes can be somewhat dangerous for them as they require using a sharp knife or a hot stove.
However, there are some easy recipes you can make with your kids that are not only safe, but fun and will help them learn more about cooking with you. Here are four fun recipes to make with your kids!
Pepper Jelly Dip
Our first recipe is a super easy yet tasty dip that works great on a hot day or goes great as an appetizer when you have guests over. A good pepper jelly dip only needs your choice of pepper jelly, some cream cheese, and anything you and your kids wanna add to make it unique.
This recipe is as easy as it is tasty. All you really need is a bowl, your favorite flavor of pepper jelly, and some cream cheese. Have you or your kids mix two parts pepper jelly and one part cream cheese together, and viola!
Something fun to have them do would be, if you're using stick cream cheese, is to have them carefully and with your supervision cut the cream cheese stick into slices and then mix it in!
Chocolate Chip Cookie Cake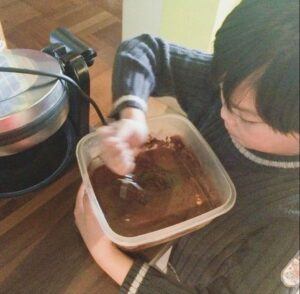 This next recipe is  more for a special occasion or one to bring to a holiday or family gathering, the chocolate chip cookie cake. For this recipe you can get the cookie dough one of two ways. You can buy it pre-made, or make it from scratch with your kids!
To make it from scratch, you can use your favorite chocolate chip cookie recipe or find a new one online. After you have the dough simply spread it into a pie pan and bake for about 20 to 25 minutes.
Get some frosting and sprinkles to have your kids put their own, *unique* touch on it and you're ready to slice and serve!
Corn salsa salad
Next is a family favorite and is a hit wherever it is brought. A fresh corn salsa salad is a great healthy dish to have with dinner or as a light lunch.
You'll need about six ears of corn that you and your kids can shuck, some grape tomatoes, and an avocado for the base salad.
After your kids shuck the corn, cut the kernels of the cob and into a large bowl. Then slice the grape tomatoes in half and add them in. Finally, dice the avocado up and add that to your mix!
Finally have your kids stir it all up and you've got yourself a nice healthy salad! Add some vinaigrette and enjoy!
Fruit smoothies
The saying "we saved the best for last" is applied heavily to this list. Not only is this last recipe easy for you and your kids to make, not only does it give them their daily vitamin requirements, it truly is a fun and tasty recipe: a fruit smoothie.
This recipe only requires you add your and your kids' favorite fruit, some milk or yogurt, and blend it all up! The result should be a nice rich smoothie that your kids will love!
Other Fun Recipes to Make With Your Kids
Aside from the above-mentioned recipes, egg-based dishes are easy and fun to make too. Omelets with the kids' favorite in them – cheese, ham, and even bacon would be great for breakfasts. Easy desserts like no bake cookies, souffle pancakes, peanut butter cups, and bubble teas are great choices too.
Now that it's summer, you will have the time to bond with kids by cooking or baking – considering what food they like will make the experience more fun. You can also bring them to buy the ingredients, but make sure to observe health protocols as you go.
And there you have it, four fun recipes and some bonus to help you share your passion of cooking with your kids! Enjoy!