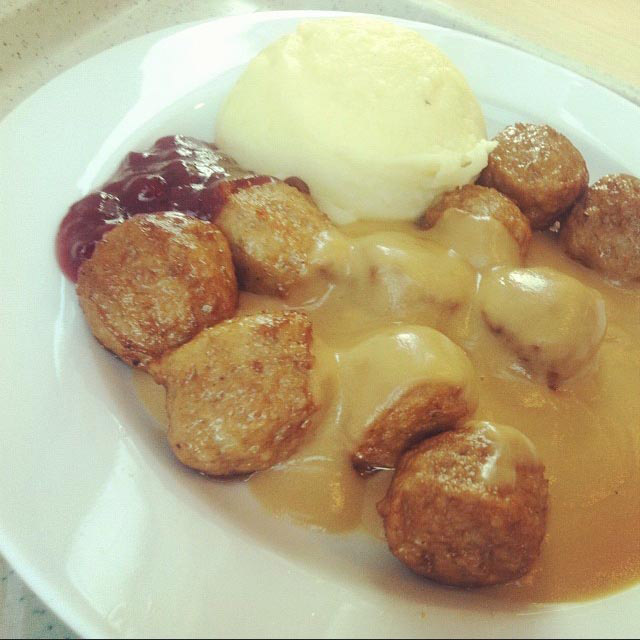 Ikea's famous meatballs. Got the recipe somewhere, I will have to look up to link properly.
Ingredients:
8 oz. ground beef
8 oz. ground pork
1 egg
3/4-1 1/4 c milk
2 1/2 Tbsp onion, finely chopped
1/4 c fine breadcrumbs (unseasoned)
2 cold boiled potatoes
4-5 Tbsp butter
1 tsp salt
1 tsp white pepper
1/2 tsp allspice
—
Directions:
In a skillet, melt 2 Tbsp butter, heat until melted and browned, be careful not to burn. Add onion to skillet, saute until golden.
Mash potatoes. (I just boiled mine and sprinkled with salt….parsley would be a good addition.)
To the bread crumbs, add 2 Tbsp milk to moisten.
In a large bowl, combine beef, pork, egg. Add onion, mashed potatoes, and moistened breadcrumbs. Add spices (salt, pepper, allspice). Add remaining milk a little at a time; stop before the mixture gets gloppy. If the meat mixture gets too gooey to form nice, neat meatballs, add more breadcrumbs.
Use a pair of spoons rinsed in water and shape the meat mixture into small round balls.
In a large skillet, heat remaining butter over medium heat. Add meatballs to skillet, being careful not to crowd the pan. Shake periodically so that the meatballs don't develop flat spots. Cook until meatballs are done through.
Serve with Cream Sauce for Meatballs or gravy and a dollop of lingonberry jam.
Enjoy!